Kitchen Services
Kitchen maintenance and fire prevention is an ever-changing industry. A proper kitchen maintenance program should be aimed at keeping your kitchen clean and free from all potential fire hazards. This program should begin at the appliances where grease is produced, and include all components of the hood and ductwork system to where the effluent exits the building. Give us a call and talk to the industry leaders on developing a program to keep your kitchen safe and looking pristine. When it comes to kitchen safety, no shortcuts should be taken.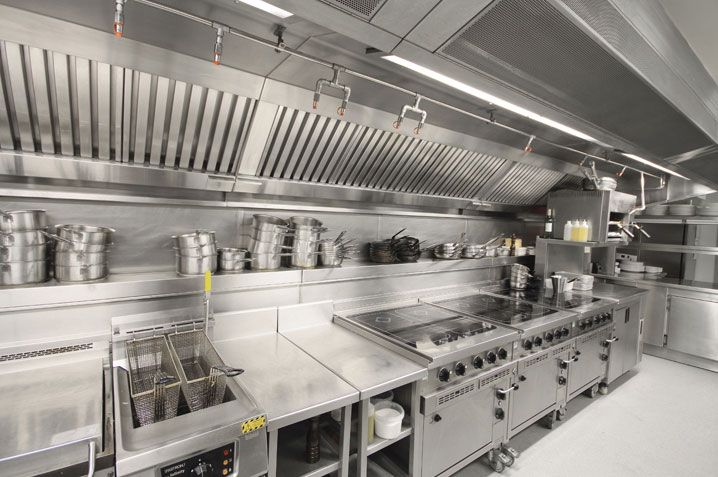 KITCHEN EXHAUST MANAGEMENT
Kitchen exhaust management is not just about hood cleaning, but rather a program tailored specifically to your facility. With over 25 certified technicians and 24-hour service, we are able to meet your service and scheduling requirements. Give us a call and talk to one of our specialists about designing a maintenance program for your facility.
Have any questions on your system? See FAQ page
CLEAN-OUT INSTALLATION
NFPA 96 provided the minimum standard for clean-out installation, but cannot account for all possible variations in a system preventing sections from being cleaned. Not to worry, we can install access directly in your system. We use pre-engineered access panels as required by NFPA 96.
ROOFTOP GREASE CONTAINMENT
Grease on roofs can cause a multitude of issues from grease-laden water going down the roof drain, to damaging roofing systems. One solution is to install a grease containment system to protect your roof by capturing grease and allowing water to run through the filtration pad.
NEW INSTALLATION CONSULTING
Many of the kitchen exhaust systems are designed trying to fit a duct system through the building while navigating tight and difficult spaces without putting much thought into the maintenance that takes place once the system is in use.
CVI will work with you to verify your kitchen exhaust system is being designed and installed with the required clean-outs for cleaning.
APPLIANCE CLEANING
To keep your cooking equipment working properly it needs periodic deep cleaning and inspections for cleanliness and damage that could hinder the appliance's function and safety.
Let us take care of the cleaning of your appliances.
FAN HINGE INSTALLATION
In accordance with NFPA 96, we install heavy-duty hinge assemblies onto the base of exhaust fans allowing them to be tipped safely and without damaging the fan or roof resulting in a longer fan life.
POLLUTION CONTROL UNIT (PCU) MAINTENANCE
Some kitchen exhaust system use an engineered solution to prevent grease and odor from escaping. These PCU's come in two general styles: media filter and Electrostatic precipitator (E.S.P.)
In order to get the most out of these system they must be periodically cleaned and inspected per manufacturers specifications.
Discuss and long term maintenance plan with us to properly maintain your PCU.