HVAC Services
Cleaning of HVAC systems has been a Cochrane Ventilation specialty for over 30 years. From the move to using HEPA equipped vacuums to national standards and guidelines, the industry has changed significantly. Cochrane Ventilation has been at the forefront of that change, driving quality cleaning and verification techniques and helping develop national and international standards.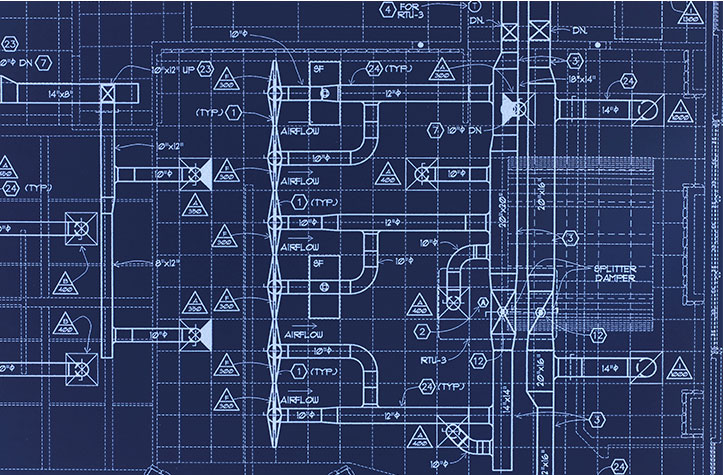 SUPPLY/ RETURN DUCT CLEANING
Dirty ductwork can impact the indoor air quality and system performance. From removing contaminants for health and safety to protecting product manufacturing we have the experience and state of the art equipment to clean your systems.
INTERNAL INSULATION REMOVAL
Over time internal duct insulation can fail due to any number of factors including improper installation or cleaning techniques to water and moisture exposure to erosion. We can remove and replace internal duct insulation in full accordance with SMACNA and ASHRAE guidelines ( see SMACNA duct construction Standard).
COIL CLEANING
Coils are commonly found in A.H.U.'s, refrigeration equipment and supply ductwork. As the air passes over them dirt, dust, pollen, moisture and other contaminants that significantly reduce the efficiency of each unit resulting in increased energy consumption. Effective coil cleaning reduces the static across the coil thus maintaining better air flow and heat transfer. Using the latest technologies we can predict the energy savings from cleaned coils and when the optimum time would be to clean the coils again from a performance and energy savings perspective.
Coil cleaning is often overlooked as a routine PM process but can result in better system performance and energy savings. When coil cleaning is performed it is often inadequate, the face of the coil is bright and shiny but the embedded dirt, pollen and other contaminants still restrict the airflow. Proper coil cleaning deep cleans the coil and can be verified through various methods including static pressure and thermal imaging. Having the accurate static pressure data can also be used to predict energy savings and predict the optimal time for future cleaning.
PROCESS & MANUFACTURING VENTILATION
From HVAC cleaning in pharmaceutical facilities to cleaning exhaust systems in manufacturing, CVI has the experience to meet the demanding requirements in these critical areas.
DUCT SEALING
Energy conservation is a growing concern and operating your systems at optimal efficiency can save money. Leaking seams in ductwork have been found to be one of the significant contributors to energy loss. Sealing seams can be done either internally or externally depending on the system installation and configuration. Sealing is now common practice and must be done to maintain the systems code compliance.
A.H.U. MAINTENANCE
HVAC Hygiene is the management of the HVAC system from filters and coils to duct and unit liner and condensate pans to insure that an HVAC system remainss clean and free of contaminants. A proactive program typically includes some degree of assessment and documentation along with cleaning. Cleaning may include the Air handler and filter compartment while energy readings are taken across the coils to determine their level of cleanliness and an inspection of a cross section of the duct systems. Any proactive hygiene program should be tailored to the clients needs and take into consideration the design, environment served and age of the system.
HVAC CLEANING
Cochrane Ventilation Inc has been cleaning HVAC systems and components since our founding over 65 years ago. We have pioneered numerous cleaning and restoration techniques including using liquid nitrogen and dry ice to replacement of duct and unit insulation. Our years of experience give us the knowledge to meet your needs.
DRYER EXHAUST CLEANING
Dryer exhaust systems with excessive lint fail to work efficiently resulting in longer drying times and pose a significant fire risk. Cleaning these systems on a routine basis maximizes performance and reduces the risk of fire. Cleaning these systems should also include assessing any flexible ductwork and the overall condition of the system. CVI cleans all dryer exhaust systems and services them in accordance with the National Air Duct Cleaners Association and the international mechanical code.
FIRE / SMOKE DAMPER TESTING & REPAIR
Fire and smoke dampers are a critical part of any buildings life safety requirements and is often overlooked. Dampers come in many different verities and combinations. Maintaining the operations of the dampers is extremely important to prevent/ slow down the spread of smoke and fire in the event of an emergency.
Using smart phone technology we map and record every fire damper location and status. We provide an organized solution to keep clients up to date through our portal login that can be integrated with other maintenance work.